The Club has five primary committee members consisting of Andy, Dave, Alex and Tony and Tim. we thought we would ask them a few questions… and here are the answers…
Club Chairman – Andy Smith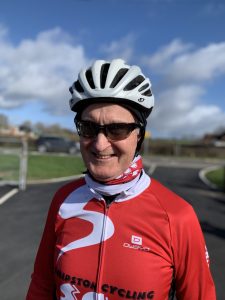 Andy Started riding with a few fellow Triathletes on a Sunday morning almost twenty years ago. This naturally developed into a regular group of social Sunday rides and entering several 100 mile sportives.
My first cycling memory?
When I was 5 years old, learning to ride a very small 2 wheel bike with my elder sister holding on to the saddle on Old road in Shipston. There were no cars coming along that road in those days. I realised that I had gone all the way to the top of the road and my sister had let go of the saddle halfway along.
What's the best thing about Shipston CC?
Riding in a tight peloton, chatting to good friends all wearing team kit and looking after each other.
Favourite cafe stop?
I have been cycling in groups for nearly 20 years now and good cycling cafes come and go. There have been some good cafes over the years that are now closed or gone downhill. We are lucky that some really good new cafes have opened recently. To pick one single cafe out of them all is difficult. Some are good at quick service (important for a large group of cyclists) Some are good value for money and some have plenty of seating. However on a nice summers day I really enjoy a stop at Trudie's Tea Garden in Cherington.
The best thing i've ever done on a bike…
So many enjoyable times riding my bike it is difficult to pick out the best. I always enjoy riding in good company and some of the Sunday club rides will always stick in my mind. However the best thing would have to be the toughest, most scenic, most iconic and most emotional ride and that was completing the Etape Du Tour. A stage of the Tour De France 1 week before the professionals, with the route taking in the Col du Telegraphe, Col du Galibier and finishing with Alpe d'Huez with snow and 35 degree heat all in one day.
---
Club Secretary – Tony Moss
Having been in the outdoors all my life, participating and leading across various sports, I alighted on riding off road through Trailquest which is orienteering on a bike. This led to buying a basic road bike to keep fitness up for the monthly off road challenge. Following a casual conversation to a couple next to me during my regular spinning class I learnt of a group of informal road riders based out of Shipston (before it was a club) and the rest as they say is history. I still do some downhill off road and regularly enter various Sportives with the South Wales Dragon ride being the reoccurring theme ….
​
First cycling memory… My earliest memory was being taught to ride on a rod brake bike and the inevitable falling off and skinning of knees. Then it was carrying a stack of heavy papers on a paper round at early o'clock and always having to wash my print black hands on return before being allowed in the rest of the house.

The best thing about Shipston CC… Like Dave, the three 'Cs' Countryside, Camaraderie and the Coffee and cake stops.

Favourite cafe stop… There are so many nice ones each with their own atmosphere but if I had to choose one it would be either Cotswold cycles as this is a cycling 'place' or even the new one at the Cotswold Distillery as there is space and coffee/cake is good
The best thing you've ever done on a bike? Again a hard one but a couple come to mind – descent (and ascent!) of San Colabora and down through the hairpins and trees on approach to Polensa from Lluc. Offroading it would be some of the trails in Nepal
​
---
Club Treasurer- Dave Martin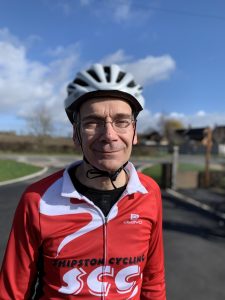 First cycling memory?
My earliest cycling memory is learning to ride my bike without stabilisers. I vividly recall riding across a park with my dad running alongside holding the saddle, and then suddenly he wasn't there!
The best thing about Shipston CC?
The best thing(s) about SCC for me is summed up by: Scenery, Camaraderie and Cake.
Favourite cafe stop?
My favourite cafe stop is Whichford Potteries, I like the beatnik vibe!
The best thing you've ever done on a bike?
My best (most exhilarating) ride would have to be the "Descent from Orient", a four mile downhill switch back, from the club's trip to Mallorca in 2017.
---
Ride Captain – Alex Macrae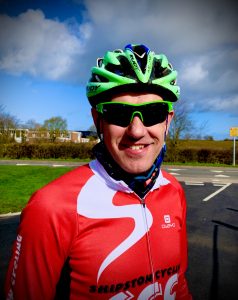 Alex is one of the very strongest in the group. He has been riding with Shipston for many years now and has competed in many sportifs. Friendly and very approachable Alex is always there to offer advice to new members.
First cycling memory?
Cycling around the garden in Iver without stabilizers for the first time at the age of 4.
The best thing about Shipston Cycling?
The members are all very friendly and support each other when required. Alex has also made several long standing friends as a result of joining the club. Sunday club rides are regularly extended in the summer (usually monthly) to include coffee/cake stops not normally visited during the other seasons.
Favourite cafe stop?
My favourite cafe stop is at Whichford. I like the eco-friendly and quirkiness of the place!
The best thing you've ever done on a bike?
There are so many fantastic memories, but 2 stand out above the others. In 2017 Alex completed the Mallorca 312 sportive, a 312 km (194 miles) route around the beautiful Island in just over 12 hours. The other abiding memory was cycling from Lands End to John O'Groats in 2019 over 9 days covering 990 miles managing to raise over £5,200 for SSAFA – the military charity.
---
Communications Officer – Tim Boswell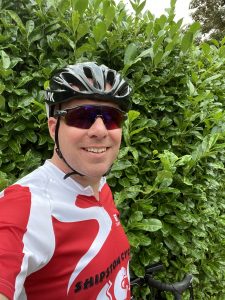 Tim puts together our weekly newsletter and runs our social media pages. He's more used to talking than writing, though, as his day job is running a local radio station!
First cycling memory?
Getting my first taste of independence and being allowed to cycle to my Nan's house. It was less than a mile away and I had to phone home before I left to come back, so my Mum could see me across the busy main road outside our house. And I had to cycle on the pavement. But still, freedom!
The best thing about Shipston CC?
The chance to explore the beautiful countryside on our doorstep, visit new places and have a good chat while doing so.
Favourite cafe stop?
I've discovered so many new ones through the club! I've three or four favourites but the Lighthorne Pavillion Café just about shades it. What an amazing idea to convert part of a cricket pavilion into a café! Their cakes are gorgeous too.
The best thing you've ever done on a bike?
Finishing the RideLondon 100 in 2019. Both of the big climbs – Leith Hill and Box Hill – were closed but I was determined to ride a hundred miles so made up the distance by riding up and down the Embankment!